Reading Time:
4
minutes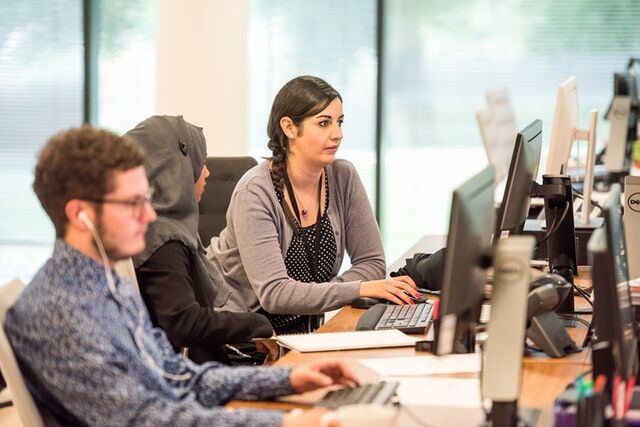 by Zoe Allen, Sona Circle
One of the most common questions refugees and people seeking asylum have when they settle in the UK is…
'How can I improve my English language skills?'
You may have some proficiency in English and want to improve, or you may have no knowledge of English at all. Either way, there are many services available to help you, as well as many things you can do either by yourself or with friends to improve your language skills.
A good level of English is a key skill for many jobs, and it is also beneficial to allow you to be more independent and social whilst you integrate into the UK.
Here is a list of services provided by the government, charities, and private organisations that are available in the UK to help refugees and asylum seekers learn English.
Government Provisions for Refugees
Refugees who have been awarded resettled status in the UK are given funding for eight hours a week of free English for Speakers of Other Languages (ESOL) during their first year in the UK.
However, this provision is cut to four hours a week of language classes after one year, once you enter mainstream provision services in the UK and claim jobseeker's allowance. If you are claiming other "non-active" (as the UK government calls them) benefits, you will not be able to access funding for ESOL courses, due to recent changes in legislation.
Tip: As above, any language course you want to take in the UK as a refugee or a person seeking asylum will probably be called an ESOL course, or it also may be called an ESL (English as a Second Language) course.
You can find lists of paid ESOL courses in the UK here, or try contacting your local colleges directly as they often run courses.
If you are resettling in Wales, the Welsh Refugee Council runs ESOL courses for refugees. Currently, in July 2020, these courses are taking place online, via Zoom.
Other Services from Charities and Local Groups
Alongside government provision, there are lots of independent free or paid services and courses that you can access, as well as of course taking the ESOL courses listed above with your own funds, although this is usually quite expensive.
1. Private 1-1 Tuition
It's pretty simple to access 1-1 tuition to help you improve your English, and this will include more personalised feedback and discussion with your teacher than group courses. Try websites like ITalki for online tutoring, and Tutorful for both online and in-person sessions. An hour of private ESOL tutoring costs around £20 – £30.
2. Refugee Non-profits
Lots of organisations and charities who work with refugees in the UK also provide free English lessons that you can attend. These are mostly available in London, including from the Refugee Council, Barnet Refugee Service and English for Action.
You could also try contacting other refugee charities that operate near you, to see if they run or know of local ESOL groups and classes. Try searching "refugees" and the city or area you are in on your preferred search engine to find local organisations.
3. City of Sanctuary Organisations
Your city or town may also be a designated City of Sanctuary, with an organisation that offers support and services for refugees in your area. Brent, Lancaster and Morcombe, Leicester and Coventry are all Cities of Sanctuaries that offer language courses or support for refugees and people seeking asylum, usually for free.
You can go to the City of Sanctuary website to find out if your city is a sanctuary city and then contact them to find out if they run ESOL classes in your area.
A lot of these organisations will also run community reading; discussion or listening groups that can help you improve your skills in a relaxed setting, alongside more formal, structured lessons.
Free Resources
Here are a few extra free online resources that might be helpful for learning English. Most of these resources provide online courses which can help you with your listening and reading.
ESOL Courses
British Council – ESOL
British Council – Learn English
British Council ESOL Nexus YouTube Channel
Erasmus
ESL LAB
Elllo.Org
BBC World Service – Learn
Other Tips for Practicing Your English
To keep practising at home, many people also find it helpful to watch and listen to films or videos on YouTube, such as TedTalks.
You could also try using apps, like the ones we have listed in this blog post, to connect with your community, find people who can help you practice your language skills, and for easy-to-use lists of useful words and phrases.
If you are looking for or getting recruited for, a job, and you feel confident doing so, you can ask your employer (perhaps using an interpreter, or through a local job service) if there will be any language training involved in the job, or how you can improve your job-specific language skills.
For more advice and information on employment opportunities and jobs for refugees in the UK, visit www.sonacircle.com or get in touch with Sona Circle at info@sonacircle.com.