Reading Time:
3
minutes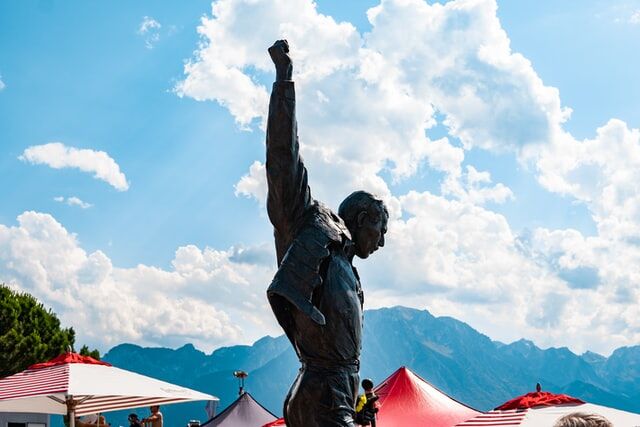 Katie McAdam, Sona Circle
In 1969 Farrokh Bulsara fled Zanzibar, (modern-day Tanzania) due to the ensuing genocide of Arab and South Asian minorities. With a great songwriting talent and an impressive vocal range, he dreamed of stardom. After joining the band Queen, he changed his name and then changed the history of rock music.
The newly named Freddie Mercury and his band, would go onto produce an era defining sound and some of the greatest rock albums of all time. Freddy Mercury's musical success and brilliant stage presence made him a global superstar. His musical legacy has influenced subsequent generations of musicians from Lady Gaga to Nirvana. Mercury continues to exert a huge cultural significance in the UK and was named one of the Greatest Britons by the BBC.
Talented individuals like Freddie Mercury stand to show the cultural impact refugees can have within the entertainment industry of their adopted country. Stories like Freddy Mercury's are rippled throughout the entertainment industry. With their talent and perseverance, refugees have made many successful careers in the industry, spreading joy to many.
Indeed, the entertainment industry has hosted some of the most celebrated and influential refugees today.
Entertainment is something that can be universally enjoyed. However, often the perspectives we showcase are by a limited few. Refugees can offer a unique perspective which enriches and diversifies our culture. Entertainment is a valuable tool in informing the public, with artists often using their work as a platform to explore issues related to the refugee experience.
This has been particularly clear in the comedy industry; with comedians such as Shappi Khorsandi, humanising the refugee narrative in confronting it with humour and light. Khorsandi came to the UK as a child during the Iranian Revolution as her father's satirical work put her family's safety in danger.
She has found a source of comedy in British life, identity conflict and discrimination showing that life as a refugee is not simply defined by tragedy and loss. Her creative talent has also been channeled into her novels 'Nina is Not OK' and the soon to be released, 'Kissing Emma' as well as her memoir 'A Beginner's Guide to Acting English'.
Work within the entertainment industry has allowed comedians like Khorsandi to shift perspectives and challenge misconceptions about refugees in an entertaining way. Refugees are able to further influence the public by using their voice to focus attention on issues they value. The success and public image of refugees in the industry has been used by many to enhance philanthropic efforts.
Chart topping singer Rita Ora, has used her prominence in the industry to act as a well-known activist. In 1991, following the outbreak of the Yugoslav wars, Ora's Albanian heritage meant she risked persecution by Yugoslav forces. Her family managed to escape her home town, Pristina, on one of the last planes out of Kosovo and settled in London. Showing great musical ability from a young age, Ora gained a place at the prestigious Sylvia Young Theatre School. This kick-started her career in the industry and she has since been nominated for five BRIT awards and seven MOBO awards.
Ora is greatly revered in her native Kosovo and in 2015 was awarded the title of Honorary Ambassador of Kosovo for her work. She is a real role model for many refugees, and acts as UNICEF Ambassador working on various projects concerning refugee rights such as her campaign on the Syrian refugee crisis.
These stories are just some of the many successes of refugees within the entertainment industry. Refugees have and will continue to prosper, achieve and innovate in the field inspiring the next generation of budding artists. Their talents and unique perspectives are vital in shaping the future of a demanding and often elitist profession. The dreams of today's refugees will go on to produce the legends of tomorrow.