Reading Time:
4
minutes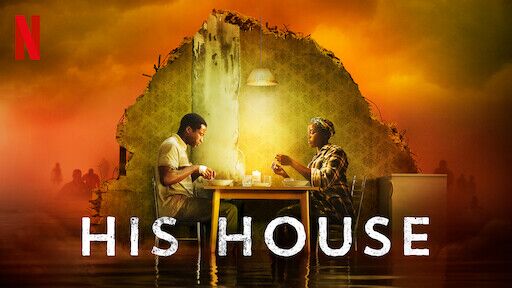 By Linda Arowolo, Sona Circle
His House is a film that explores the cost of seeking security from conflict and what you will do to achieve it. It exposes the mental horrors of refugees and can be described as a horror-thriller. It follows Bol and Rial Manjur (played by Wunmi Mosaku and Sopé Dìrísù), a South Sudanese couple who seek asylum in the UK and struggle to adjust to a new life in a crummy council house where a sinister presence torments them.
Immediately the film's imagery gives power to refugees to tell and shape their own story. The Manjurs are not solely defined as asylum seekers and refugees or relegated to statistics and numbers reported by the news. We are privy to their experience and their decisions. Through their lens, we are exposed to how people who take the same journey may have a different understanding and outlook on their present circumstance.
On one hand, we have Bol Manjur who is eager to leave the past in its complicated and violent state. He has a yearning for belonging to his new environment. He is keen to restart. Defiantly, Bol asserts "we are not going back" and "we will be new here." A sentiment many refugees may experience as going back can't be an option.
In a scene, Bol is invited inside a church to receive a care package for refugees. He stays behind to watch a football match. He is seated alone, but when the men around him start to sing a Peter Crouch song, he doesn't feel alone. Bol joins in, he is a part of something. The men turn around, some with their glasses raised as a form of acceptance. Their acknowledgement of Bol's participation, for Bol, validates his belonging. An anchor to stabilize this new beginning.
On the other hand, Rial Manjur doesn't know how to belong and can't unlearn or dismiss the past and start anew. Rial survives by "belonging nowhere." She is content in being sent back to South Sudan – a place she understands. Unlike Bol, she finds difficulty in settling in from the xenophobic verbal assault from three young teenagers "go back to Africa" to the nurse who lacks sensitivity and cultural awareness when attending to Rial. This scene in particular highlights how the health industry, particularly in the UK, lacks awareness and proper training to ease the social integration and social support of refugees. There is a total disregard for mental health, which is shocking considering the trauma a high percentage of refugees will face.
The juxtaposition in Rial and Bol's attitudes towards their new home is clear. While Bol is adamant in fitting in and tries to anchor himself in the community, Rial hasn't left survival mode and is finding difficulty reconciling the past with the present.
Their attitudes are also reflective of the degree to which the Apeth (A Dinka word that roughly translates into witch) torments them. With Bol, it's more aggressive as he is adamant in shutting out the past. In the beginning, Bol refuses to acknowledge these interactions with the witch, dismissing it as a mental health issue or a trauma response, but Rial sees it for what it is and has the ability to not give in to its persuasive.
We are made aware of a horrifying revelation. The daughter, Nyagak, is not actually their daughter. But a random child plucked from the sea of people begging to be allowed on the bus fleeing from the gunmen.
The bus conductor was only accepting boarding from families with children. In his desperation to get away from the militia firing at them, Bol picks up Nyagak and says this is my daughter to gain passage on the bus. Nyagak is seen screaming for her mum, who runs after the bus. Nyagak ends up dying on the crossing over the sea to safety.
Here, the Apeth can symbolise the consequence for actions. An entity forcing the Manjurs to atone for their sin of essentially kidnapping a child for their freedom. The manifestation of evil in the house in a way represents their morality and guilt.
Similarly, the Apeth to some extent is a reflection of the Manjurs. They were stowaways on a boat crossing for safety and the Apeth is a stowaway in their migrant life. The intensity of the horror scenes once again reflect the true horrors of the migrant journey and experience on the whole for many refugees and asylum seekers.
In His House, we become privy to the insidious nature of the EU and more specifically the UK policies which often quietly find ways to deny refugees and asylum seekers their human rights. It can very much be perceived as legalised state violence, from the government removing annual targets for the UK resettlement programme to Home secretary Priti Patel ushering in an immigration policy that essentially punishes victims of smuggling and bans refugees travelling through Europe to seek protection in the UK.
Moreover, the film reveals the power dynamics between refugees & asylum seekers and civil service workers. Case Worker Mark has the power to control their stay status in the UK with just one report write up. Mark condescendingly tells them to "be one of the good ones" highlighting the way microaggressions and mental violence are inflicted on refugees and asylum seekers. It's a subtle warning that with any excuse they can be deported and it's a privilege to be accepted, not a right. It begs the question, how can refugees and asylum seekers assimilate into a society they can't freely participate in?
Towards the end, Bol acknowledges the existence of the Apeth by confronting it and Rial conquers it by slitting its throat. This can be interpreted as, not a closure from the conflict they have escaped, but realisation that this is their reality.
The terror of the experience is weaved in the film, intended to be disturbing and disorientating, not allowing us to escape the exhausting mental and emotional rollercoaster refugees and asylum seekers go through. In the end, we witness the faces of people which sends a strong message that the refugee experience includes us all. We all have a duty and part to play to ensure human rights are extended to refugees and asylum seekers.
His House is written and directed by Remi Weekes from a story by Felicity Evans and Toby Venables. It is presently showing on Netflix.