Reading Time:
3
minutes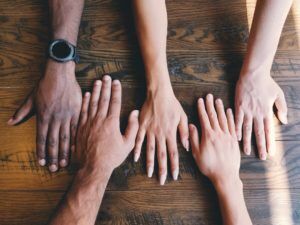 By Zoe Allen, Sona Circle
Hiring refugees in your small business or start-up has a whole host of benefits that simply don't get enough attention. Without a wide range of skills and talent, a business runs the risk of stagnating. Hiring refugee interns to access a highly motivated and diverse talent pipeline is the ideal way to combat this.
What's more, refugees consistently face barriers to employment in the UK, so hiring refugees allows you to help others whilst still growing your business. It's a win-win situation for all involved!
Below are five key benefits to hiring refugees that every SME and start-up should know about:
1. Diversify your workforce
Your business can directly benefit from ethnic and cultural diversity. Research by McKinsey & Company found that teams that are more culturally and ethnically diverse are 33% more likely to be more profitable than their less-diverse competitors.
Refugees are not a homogenous group, and come from a wide range of backgrounds, so taking on refugee interns or staff can hugely increase the diversity of your business. Drawing from this wide range of candidates from all over the world can greatly help diversify thinking and skillsets within your business, leading to vastly improved innovation and growth.
2. Access skilled and qualified candidates
Refugees are often highly skilled and experienced. Research from the Nuffield Foundation found that nearly half of the refugees surveyed held a qualification before coming to the UK, and Deloitte found that 38% of refugees surveyed had a University education. Refugees have a wide range of talents and professional skills, and due to their experiences have often developed enormous resilience and adaptability.
In addition, refugees are likely to be proficient in a number of languages other than English, which can be another asset to businesses growing into international markets.
3. Increase employee communication and empathy
Encouraging employees to interact with refugees from different cultural and ethnic backgrounds will develop soft skills such as effective communication, empathy and teamwork.
We suggest using 'buddy' schemes to support refugee hires, to help employees develop these skills with the intern they are supporting. This interaction will encourage innovative and new thinking throughout the whole team, facilitated by the inclusion of the new refugee intern or employee.
4. Keep roles filled by ideal candidates
73% of employers surveyed in the US found that refugees had higher retention rates than other employees, so hiring refugees will allow you to keep this great new talent for longer which significantly reduces recruitment and training costs and encourages uninterrupted business continuity.
Sona Circle Recruitment's refugee internship programme can help your business recruit a targeted talent pipeline, which can be developed into a dedicated and committed long-term workforce.
5. Decrease unconscious employee bias
Creating opportunities for your employees to work alongside a diverse refugee workforce will both enable employees to develop new skills and ideas, while also reducing staff's unconscious bias.
This will increase workplace cohesion and integration, boost staff morale and improve teamwork. You'll create a diverse and committed team, which recognises the importance of a fair and socially progressive workplace.
So how can Sona Circle Recruitment help you?
At Sona Circle Recruitment, we connect socially conscious employers with the skilled and dependable refugee workforce in the UK. Our refugee internship programme matches qualified and committed members of the refugee workforce with exciting new start-ups and growth businesses. You can learn more about our refugee employment programmes here.
Our mission in 2020 is to create up to 100 new employment opportunities for refugees in the UK and we now need your support to achieve this ambitious target.
You can show your support by making a donation (no matter how big or small) to the Sona Circle Refugee Employment Fund where 100% of donations go directly to supporting refugee employment in the UK.